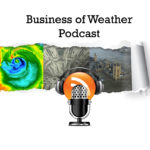 Business of Weather talks to Mary Glackin, President of the American Meteorological Society
Given what many experts agree is a mounting and serious climate emergency, the American Meteorological Society is, without doubt, a key influencer.
Its Annual Meeting is the world's largest yearly gathering of the weather, water, and climate community and also attracts policy and decision makers from government and business.
But faced with a huge and growing body of evidence highlighting the central role of human activity in climate change, these are difficult times for the Society. While many US states have embraced the need to cut carbon emissions, a head of state who is an ardent climate change denier can only make the job of convincing the public of the need for urgent action a harder one.
Business of Weather spoke to Mary Glackin about the challenges that lay ahead. Mary is the current President of the American Meteorological Society and the former Vice President of Weather Business Solutions at the IBM subsidiary, The Weather Company …