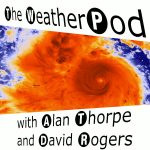 In this episode of the WeatherPod, hosts David and Alan talk to Dr Shipra Jain and Dr Marisol Osman about their experience as early career scientists of working within the global weather enterprise. Both Shipra and Marisol are members of the Young Earth System Scientists (YESS) community.
About the guests
Dr Shipra Jain (University of Edinburgh – climate science) is a physicist by training and particularly interested in how society can benefit from improved knowledge of extremes. She conducts research to advance the physical understanding and early prediction of weather and climate extremes. For the last five years, she is working on the development of physical-mathematical frameworks that can be used to quantify the chance of record-breaking rainfall for the next season to next decades.
Shipra has worked on diverse climate science-related topics including seasonal predictions, monsoon dynamics, stratospheric tropospheric processes, climate change and variability, climate extremes, and air pollution. She has collaborated with > 60 co-authors across different countries, organizations, and career stages. Very recently, she has joined the Centre for Climate Research Singapore, where she works on the seasonal and subseasonal forecasting and development of forecast products for Singapore and South-East Asia.
Dr Marisol Osman (research scientist at CIMA/University of Buenos Aires – Meteorology/climatology) is a postdoctoral researcher working at Karlsruhe Institute of Technology. Coming from a town of farmers, she was always interested in how climate variability affects agricultural activity. During her Diploma and PhD, which she completed in Buenos Aires, Argentina, she worked on climate predictability and prediction on seasonal timescales over the Southern Hemisphere and South America. During her postdoc, she developed a probabilistic seasonal forecasting system for South America that is now used by the Argentinian Weather Service. As a researcher, she worked on interdisciplinary projects with anthropologists, economists as well as farmers to co-design and co-produce forecasting tools for the agricultural sector on subseasonal and seasonal timescales. Now at KIT she studies the predictability of different variables relevant for the energy sector on weather and subseasonal timescales.
Theme music by John Cockram