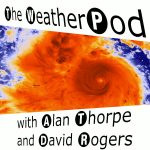 In this episode of The WeatherPod hosts David and Alan talk to Tim Palmer to explore some of the thoughts developed in his new book 'The Primacy of Doubt' (Basic Books) and their potential implications for weather forecasting.
About the guest
Tim is an eminent research scientist in weather and climate prediction and predictability. He has worked at the Met Office, at ECMWF and now is a Professor of Physics at the University of Oxford.
He is well known as an architect of ensemble weather prediction, but he is a polymath with interests across fundamental physics and maths. In his book 'The Primacy of Doubt' Tim discusses how incorporating uncertainty appropriately in the form of (random) noise into simulations and models of a range of natural phenomena, including weather and climate, is fundamental to improving the predictions of future behavior, i.e. the weather forecast.
Tim is also a keen musician. See:
Theme music by John Cockram