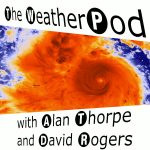 In this episode of The WeatherPod, hosts David Rogers & Alan Thorpe meet Dr Nina Ridder, of the University of New South Wales and Dr Faith Taylor, of King's College London to discuss the huge impact extreme weather & climate events – especially compound events, such as heatwaves followed by heavy rainfall – are having on urban areas and human settlements.
This is the second episode of The WeatherPod produced in collaboration with the Young Earth System Scientists (YESS) Community.
Dr Nina Ridder is a Research Associate at the Centre of Excellence for Climate Extremes, Climate Change Research Centre (CCRC), University of New South Wales.
Nina joined the Centre in the beginning of 2019. Her work focuses on compound climate and weather extremes, and extreme precipitation. As such, Nina addresses the occurrence of multiple natural hazards that have been associated to the most severe socio-economic damages in New South Wales over the past decades.
She uses multivariate statistics to determine any statistical dependency and correlation between hazards and aims to identify the physical processes driving multiple hazards. I In detail, this includes the statistical relationship between precipitation, wind, and high temperatures as well as the occurrence of sequences of two or more east-coast low pressure systems hitting NSW.
Additionally to her work focusing on NSW, Nina also investigates multivariate hazards on the global scale to establish possible spatio-temporal links between different regions and their natural hazards around the world.
Dr Faith Taylor is a physical geographer with interests in geographic information systems (GIS), spatial modelling, statistics and natural hazards. She is a Lecturer in Physical Geography Education in the Department of Geography.
Faith has a MSc in Environmental Modelling, Monitoring and Management and a PhD from King's College London. Her PhD thesis focused on statistical patterns in triggered landslide event inventories and the development of a landslide road impact model.
Between 2015 and 2017, she undertook two post-doctoral research positions at King's College London, with a focus on hazard and risk in towns and cities in the Global South. These projects were 'Urban Africa Risk Knowledge' and 'Why we Disagree about Resilience'.
Between 2017 and 2019 she was a Lecturer in Geographic Information System (GIS) at the University of Portsmouth.
During her PhD and postdoctoral research at King's, she co-founded Intrepid Explorers, which is a platform to promote the value of field-based research in education and inspire others to do safe and impactful field research. With colleagues, she also established King's Humanitarian Mappers, which is a group of staff and students who run 'mapathons' (mapping marathons) to put remote and vulnerable places on maps that are available to all.
Both Nina and Faith are members of the Young Earth System Scientists community, (YESS).
Theme music by John Cockram, john@mjcmusic.co.uk