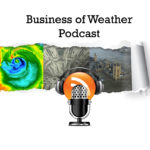 Business of Weather speaks to the co-founder of Shipped by Sail, a novel shipping broker using sailing ships to transport cargo
The global shipping industry is responsible for the movement of most of the world's goods. In a typical year – 2020 aside – it transports about 10 billion tons of cargo and this is forecast to increase by over 3% per year for the next five years.
Almost all of this is transported by ships which burn what can best be described as the dregs of the fuel chain. Known as bunker fuel, it is what's left over after gasoline, diesel and other light hydrocarbons are extracted from crude oil during the refining process.
CO2 emissions from global shipping account for over 3% of the global total. By 2050, emissions from global shipping could account for a quarter of ALL fossil fuel CO2 emissions.
The International Maritime Organisation or IMO regulates the operations of the global shipping industry. It has recently introduced controls to reduce these emissions – but they will need to be policed rigorously.
However, as climate change accelerates, is there an opportunity to revert to wind powered shipping?
Shipped by Sail, a shipping broker set up by Will Adeney and Will Templeman, has set out to do just that. By tapping into a network of traditional sailing ships, it organises the transport of ethically sound goods to the UK from destinations around the world.
Business of Weather spoke to Shipped by Sail co-founder Will Adeney to find out more …
For more information, visit: http://www.shippedbysail.co.uk/
Theme music by John Cockram, john@mjcmusic.co.uk