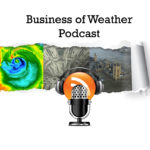 Business of Weather talks to Dr. Jan Dutton, serial weather business entrepreneur and CEO of Prescient Weather Ltd., the creator of World Climate Service and CropProphet. We discuss setting up a weather-based business startup …
If you're planning to launch your own a weather-related business, then how can you go about it? What are the ingredients of a successful business? How can you get the funding to launch it in the first place? And what about the management team and how well do you know your target market?
When it comes to funding, there are various formal and informal networks that bring would-be entrepreneurs face to face with financiers, be they investors, lenders, grant organisations or, bang up to date, crowd-funders.
Perhaps more fundementally though, how can you be sure that there's actually a demand or requirement for what your business will be offering?
One problem you may well face is that few financiers know the first thing about the weather, or how weather technologies and data services can assist weather affected businesses.
You'll have to explain this to them and a critical ingredient will be your business plan. This will require a clear marketing plan and realistic sales and revenue projections. Very importantly, it must display a clear understanding of who your customers are and why they want what you're offering.
In this episode of Business of Weather, we talk to serial weather entrepreneur, Dr. Jan Dutton, about his own experiences of setting up a business and getting funding
Jan is the CEO of Prescient Weather Ltd. and ClimBiz Ltd. His career spans positions at Weather Ventures, Earth Networks, Storm Exchange, Schneider Electric, and DTN.
His career objective he says, is to enable business decision making based on weather and climate information.
In future episodes we shall be talking to other weather entrepreneurs t learn of their experiences.
For further information, visit www.prescientweather.com, www.worldclimateservice.com, and www.cropprophet.com.
Theme music by John Cockram, john@mjcmusic.co.uk