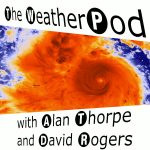 In this second episode of this two part WeatherPod exploring aspects of public weather services, hosts David and Alan invited Haleh Kootval, Gerald Fleming and Kevin O'Loughlin into the studio to discuss how the landscape for the provision of public weather services is changing with the growth of the private sector within the Global Weather Enterprise and the way digital technologies are changing the way people receive services.
Please send your feedback on The WeatherPod to us at: support@gweforum.org
About the guests
Haleh Kootval
Haleh joined the World Bank as a senior consulting specialist in meteorology and service delivery in April 2017. She has been working in countries in South Asia, Central and East Europe, the Caribbean and Africa on hydromet modernization projects, as project team leader for a modernization project to Government of Bangladesh and as a senior service delivery expert to the Government of Laos. Prior to that, Haleh worked in WMO as the Chief of the Public Weather Services Program, which she developed and led until her departure from WMO. She has co-authored and edited more than 30 publications on various aspects of service delivery with a focus on public weather services. Prior to joining WMO, Haleh served as the Head of the Brunei Meteorological Service and the Permanent Representative of Brunei with WMO, the President of WMO Regional Association for Asia and Southwest Pacific, and as a member of the WMO Executive Council. Haleh is a physics graduate of the Imperial College of London University and completed her post graduate studies in geophysics.
Gerald Fleming
Gerald is a graduate from UCD Physics in 1978 (B.Sc) and 1980 (M.Sc), Gerald Fleming worked 37 years for Met Éireann as a weather forecaster and weather broadcaster, leading the TV weather team and spending 9 years as Head of Forecasting. For WMO he chaired the Programme on Public Weather Services for 15 years. He now works as a meteorological consultant on a variety of WMO and World Bank development projects in South Asia and in Africa. He received the European Meteorological Society's Silver Medal, their highest honour, in 2019.
Kevin O'Loughlin
Kevin is a meteorologist with extensive experience in Australia and internationally in operations, policy and leadership . He is a former State Director and national Deputy Director of the Australian Bureau of Meteorology responsible for the Bureau's service delivery functions, including public weather services, severe weather services, aviation and defence services, and climate services. He also served for four years as CEO of an Australian/New Zealand wildfire research centre. Internationally, Kevin was involved as an expert in the development and implementation of the WMO Public Weather Services Programme from its inception in the mid 1990's. He served as chairman of the Programme's for several years. His other international experience includes a variety of consultancy tasks for WMO involving projects in developing countries in Africa, leadership training workshops, and official WMO guidance material.
Theme music by John Cockram