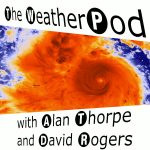 In this episode of The WeatherPod, hosts Alan and David meet Paul Davies, Chief Meteorologist and Principal Research Fellow of the UK Met Office, to discuss the implications of 'impact-based forecasting' for the future of weather forecasting and of the weather forecaster.
Paul has a number of years experience in meteorology and is now recognized nationally and internationally as an authority in the field of operational meteorology.
As Principal Fellow, Paul will ensure the Met Office's professional and cultural approach to weather forecasting is globally recognized and to head a respected and valuable operational meteorological profession. He will spearhead the innovation and use of new scientific, technological, and operational techniques to deliver impact and benefit to a wide range of customers. Paul will also be the external figurehead for all things to do with the meteorological profession be this with stakeholders or key customers.
Paul was a Chief Forecaster in 2003 before being appointed as the Chief Hydrometeorologist and Deputy Head of the Flood Forecasting Center in 2008. From 2010, he created the Met Office's Hazards Center and was the founder and inaugural Chair of the Natural Hazards Partnership (NHP) comprising a number of partner agencies, government departments and the Cabinet Office.
Paul was the lead author to WMO's Multi-Hazard Impact Based Forecasting and Risk Based Warnings guidelines in his capacity as WMO's IMPACT task team chair. Paul later became UK representative on the WMO Commission for Basic Systems (CBS) OPAG Management group for GDPFS ensuring the flow of data and advice is cascaded between global, regional, and national systems.
Theme music by John Cockram