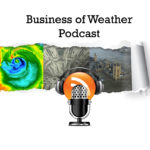 At the 4th International Conference on Energy Meteorology, Bari, 27 – 29 June 2017, Business of Weather interviews Giles Dickson CEO of WindEurope and Dr. Steve Dorling, Associate Dean in the Faculty of Science at the University of East Anglia, about the business opportunities of applying meteorology in the energy sector, especially for business start-ups and SMEs.
About the participants
Giles Dickson CEO of WindEurope
Prior to joining WindEurope, Mr. Dickson was Vice President of Global Public Affairs at Alstom. He was also a civil servant in the UK Government for over 15 years. WindEurope is the voice of the European wind industry and represents the entire value chain of wind power: turbine manufacturers, component suppliers, power utilities, project developers, financial institutions and research institutes.
Dr. Steve Dorling, Associate Dean in the Faculty of Science at the University of East Anglia
As a Chartered Meteorologist since 1997, Dr. Dorling specializes in training and in research which addresses energy-, food- and water security concerns. In 2001 he co-founded Weatherquest Ltd and since then has acted as Innovations Director of this SME which provides weather and climate services to the energy, agriculture, water, media and transport sectors. Steve is co-author of the text "Operational Weather Forecasting" published by Wiley and has held previous positions with Environment Canada and the UK Met Office